CCTV Camera App for Android
Please try our exciting new Security Camera App available from the Play Store.
CAMCAM will turn a redundant Android handset into a clever surveillance camera that uses Artificial Intelligence to trigger only on selected objects of interest.
Images are uploaded to the
CAMAC Web Service
and made available for you to view from anywhere with a web browser.
Early adopters will be given free access to the service while in development.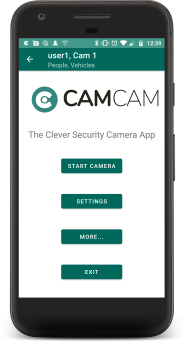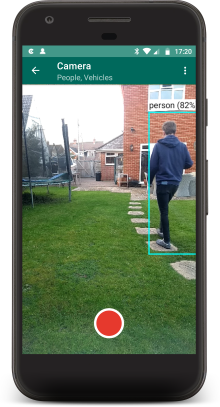 Quick Start
Install and Run the App

Create a New Account

Login and Start the Camera

Place the phone on a stand (screen off if desired)

Easy to Setup
One of the biggest issues with our current IP camera FTP service is the difficulty in configuring and connecting cameras. Because of the huge variety of IP camera offerings it is impossible for us to offer clear and concise instructions for every make and model. It is also technically challenging for you to locate your camera on the network, access its configuration page and then set-up the detection triggers, sensitivity, schedules, transfer mode, passwords, image / video configurations etc.

CAMCAM bypasses this by connecting automatically with a pre-configured optimum configuration.
Simply choose a Username and password and you're ready to record.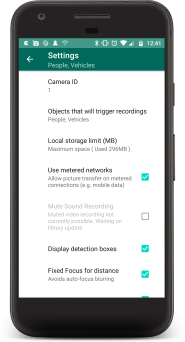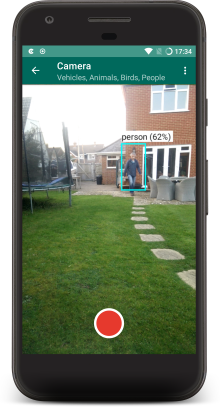 Low False Alarm Rate
With traditional IP Cameras, a bit of wind, a flash from a headlight, a sudden rain shower, a spider walking across the lens... can all generate false triggers. CAMCAM reduces this by using a machine learning model on your device to identify and trigger only on objects of interest:
Currently selectable from People, Vehicles, Animals or Birds.
Efficient use of the Internet
CAMCAM will also work under challenging network conditions where other real time solutions are not viable. When triggered CAMCAM uploads a series of low resolution frames to the server. The trigger frames are displayed in a web browser to allow the easy review of historical events. Playback mode allows the user to retrieve and playback a high definition video of any event of interest. This conserves Internet usage and allows the system to operate on the cheaper tiers of CAMAC and can even work where Internet connectivity is poor or intermittent.


Secure by Design
Cheap IP cameras often lack even the most basic security and sometimes provide only plain text transfer of data and passwords. The problem is compounded by the difficulty in obtaining and updating firmware to patch any known vulnerabilities. All CAMCAM connections use modern elliptic curve cryptography to provide the best possible secure transfer of your data. The ease of updating Apps via the Play Store will ensure CAMCAM stays secure in the future.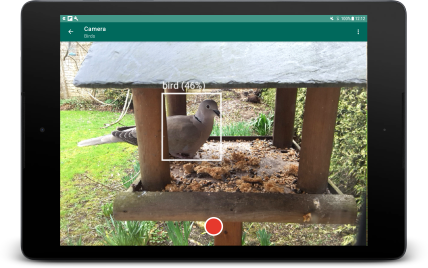 Inexpensive to Run
CAMCAM is always on and requires an active Internet connection so consumes more power than a typical App or the phone on standby. Chances are that the battery in your old phone is not 100% effective too. Hence, best results are obtained when the phone is plugged into a power source. The phone may get warm but should not get too hot to touch (If it does, this suggests a battery fault and the phone should not be used). Typically, the phone will consume about 5W of power (1amp at 5v) resulting in an electricity cost of between 1.5 and 2 pence per 24 hours (UK prices)



View your Results
The detections are uploaded to the CAMAC Web Service and can be viewed from anywhere using a standard web browser.
Double clicking on any particular event of interest allows you can review the individual frames and upload the high resolution video from your device.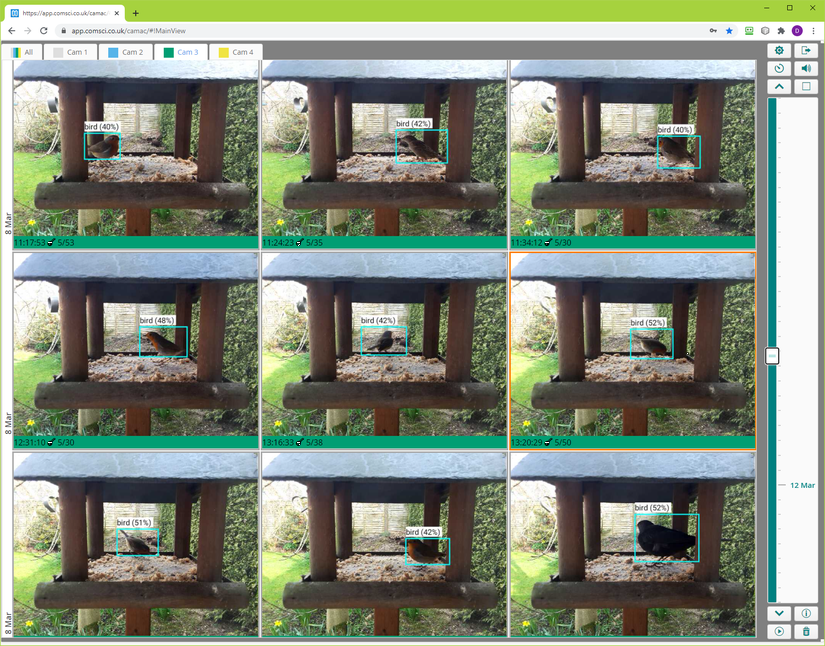 CAMCAM App Requirements
An Android phone Version 6.0 (Oct 2015) or later with a working rear facing camera.
An Internet connection (e.g. WiFi) is needed, SIM card optional.

We are particularly interested in discovering any bugs / unexpected crashes with the intention of building a database of compatible phone models and those with problems. So all experiences, good and bad are welcome.

Install CAMCAM: CAMCAM on the Play Store

Read the User Guide
Known Issues
Provided that the CAMCAM app was active in the foreground, it should still work with the screen switched off. However, see the Troubleshooting section of the User Guide for potential issues with Battery Optimisation, Stamina modes etc.)
Current web service display is hooked into our legacy CAMAC FTP service which is due a makeover.
Hence many CAMAC FTP related settings will not be applicable